For nearly 50 years, "The Church on the Corner" has been a landmark in Westlake Village, California. United Methodists seek to follow Christ with "Open Hearts, Open Minds, Open Doors" and to lead loving lives of meaning, hope and compassion for others. At UMCWV, we strive to be a diverse, inclusive and multi-generational congregation that is welcoming, inspiring and making a positive difference in our community. We are well-known for our exceptional music program for all ages, and our excellent weekday nursery school. Come join us for one of our Sunday Services or any of our enriching programs and you'll see why so many call UMCWV home.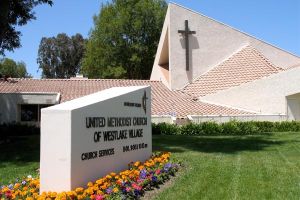 What We Believe
The United Methodist Church (UMC) is grounded in the life, death and resurrection of Jesus Christ. What United Methodists believe is not an easy question to answer since our people don't agree on all aspects of doctrine exactly the same.
The distinguishing marks of a United Methodist are probably best illustrated by a commitment to the basics of Christianity and by a Christian lifestyle.
Read More
Our Local Story
The United Methodist Church of Westlake Village (UMCWV) held its first worship service in the First Neighborhood Community Center on September 15, 1969, with 30 people received as charter members. The congregation was officially chartered on May 24, 1970, and had more than 200 members by the end of that year.
Read More
The United Methodist Church Story
The people of the United Methodist Church (UMC) are a covenant community – dedicated to God's work and making disciples of Jesus Christ for the transformation of the world. The United Methodist Church was formed with the merger of the Methodist Church and the Evangelical United Brethren Church in 1968.
Read More